<!—- Conditional meta for Book and Score Review Posts -->
<!—- ********************* -->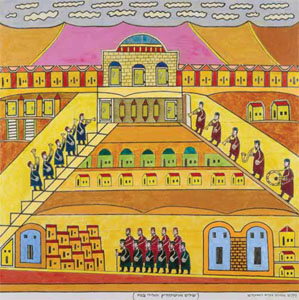 "Beyond Boundaries: Music and Israel @ 60" looks at the Present-Day Complexities of Israeli Music
View Beyond Boundaries Brochure
On Friday, March 28, "Beyond Boundaries: Music and Israel @ 60," a symposium of the Center for Jewish Studies at the CUNY Graduate Center, will explore the complex diversity of musical styles, cultures, religions and ethnicities that is Israel today. The daylong event will present papers, discussions, and musical performances from 9:30 AM to 3:30 PM in the Baisley Powell Elebash Recital Hall on the first floor of the Graduate Center, 365 Fifth Avenue (at 34th Street).
In the morning, three speakers will present papers on a variety of topics significant to our understanding of the present-day climate for music in Israel. In the afternoon, from 1 to 3 P.M., there will be a concert by two performance groups: the renowned contemporary New York-based chamber ensemble Continuum, with a program of Israeli art music with pieces by Tzvi Avni, Betty Olivero, and Benjamin Yusupov; and Galeet Dardashti's all-woman band Divahn, with a program of ethnic and popular Mizrahi music. Dr. Marsha Dubrow, Musicologist and Resident Scholar at the Center, will serve as the moderator for the day.

"Beyond Boundaries: Music and Israel @ 60"
Among the speakers in the morning session:
At 9:45 A.M., Dr. Ronit Seter of the Hebrew University will present a paper entitled, "National Identities Playing Musical Chairs: Israeli Art Music, 1948-2008". In her paper, through a discussion of Israeli art music composers over the past sixty years, she will argue that in Israel, given its origins as a society of immigrants, multiple national identities have become a seminal hallmark of the complex Israeli Identity in music. She will make references to first, second, and third generation composers and the continuously broadening of the national identity mix over time, with special focus on Tzvi Avni, Betty Olivero, and Benjamin Yusupov, whose works will be performed in the afternoon concert..
At 10:30 A.M.., Dr. Benjamin Brinner of UC, Berkeley will speak on "Beyond Ethnic Tinge or Ethnic Fringe: The Emergence of New Competences in Israeli/Palestinian Musical Collaborations". His remarks will be centered around field study conducted in Israel for his forthcoming book from Oxford University Press, Playing Across a Divide: Musical Encounters in a Contested Land, as well as theoretical frameworks he developed for the study of musical competence and interaction reflected in his book, Knowing Music, Making Music. Dr. Brinner's analysis will also reflect aspects of social network theory. His presentation will support the notion that cultural collaborations can serve as bridge-builders enhancing understanding and deepening positive relationships between peoples.
At 11:15 A.M., Galeet Dardashti, both a scholar and performer, will present a paper on the subject, "The Piyut Craze: The Popularization of Religious Mizrahi Songs in the Israeli Public Sphere". Ms. Dardashti will examine how new popular forms of traditional, Judeo-Arabic religious poetic songs are contributing to a reconfiguration of previously essentialized identities of Israeliness. According to Ms. Dardashti, "Israelis of all types are signing up for classes that teach them to sing Mizrahi piyutim: the new age spiritual seekers, the young third-generation Mizrahim seeking the roots they previously shunned, and both secular and devout Mizrahim and Ashkenazim of varied ages." Dardashti has conducted several years of fieldwork in Israel, She notes, "Not only is it notable that the wider public is interested in Mizrahi culture, but until recently, the boundary between those who self-describe as secular and religious in Israel was more defined."
This symposium is the first public program to be offered by the Center for Jewish Studies' Initiative in Jewish Music. Begun last fall by scholar, performer, composer and producer Marsha Dubrow, a Princeton-trained musicologist, this initiative is an attempt to fill a gap in the availability of strong Jewish music program offerings at secular colleges and universities. "Beyond Boundaries" is co-sponsored by the D.M.A./Ph.D. Program in Music, the Barry S. Brook Center for Music Research and Documentation and the Center for the Humanities.
"The Symposium will be the first of many unique and interesting offerings in the realm of Jewish music at the CUNY Graduate Center's Center for Jewish Studies," Dubrow said.
The Graduate Center is the doctorate-granting institution of The City University of New York (CUNY). An internationally recognized center for advanced studies and a national model for public doctoral education, the school offers more than thirty doctoral programs as well as a number of master's programs. Many of its faculty members are among the world's leading scholars in their respective fields, and its alumni hold major positions in industry and government, as well as in academia. The Graduate Center is also home to more than thirty interdisciplinary research centers and institutes focused on areas of compelling social, civic, cultural, and scientific concerns. Located in a landmark Fifth Avenue building, the Graduate Center has become a vital part of New York City's intellectual and cultural life with its extensive array of public lectures, exhibitions, concerts, and theatrical events. Further information on the Graduate Center and its programs can be found at www.gc.cuny.edu